When starting a business, the most important step is coming up with a business plan. It is vital to remember that writing this document cannot be done overnight or should be written by one person. A successful business plan requires brainstorming, whether by an individual or by a team.
For entrepreneurs building a startup with other people, a study by Simone M. Ritter and Nel M. Mostert (2018) showed that brainstorming individually then with a group results in more useful ideas. According to them, "These findings suggest that generating ideas in a group after generating ideas individually has a strong beneficial effect on the originality, and thus the quality of the ideas generated."
In a time when electronic brainstorming has not only become available, but also necessary, there is a need for planning and collaboration software that can facilitate individual and group brainstorming digitally. Check out some of the best options.
IdeaBoardz
IdeaBoardz is an affordable option for startups because it is free. It simulates the experience of face-to-face brainstorming by providing a digital board where individuals can post notes of their ideas and make connections. Team members can gather through the board and create sticky notes of their thoughts. This also gives them the ability to categorize each note for organization.
This is an extremely versatile brainstorming tool as it can be used for all kinds of purposes. Moreover, it has a straightforward interface, making it easy to use. Users can start using this tool as soon as they set up an account.
In terms of collaboration, this tool goes beyond simply allowing them to post ideas. Team members can also give a thumbs up to notes they find useful. Boards are also highly mobile as they can easily be exported as PDFs or sheets.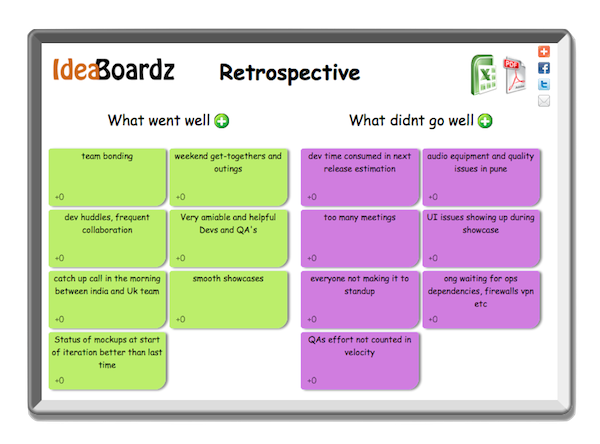 MindMeister
Mind-mapping is an important process of brainstorming. MidMeister provides an organized way to take down notes and associate them through a map layout. This tool provides layouts namely the Classic and Org Chart modes. Users can also sort their ideas by adding customized colors on components of mind maps.
Entrepreneurs can collaborate with other people by inviting them on mind maps. Other members can add comments and vote on ideas, making it a great group brainstorming platform. Users can also see what each contributor added or changed on the map.
This service is accessible because it is available on PC, mobile, web browsers. The cost of this service ranges from $2.49 to $4.19 per user per month, depending on the plan. A Basic plan is free.
StormBoard
Real-time collaboration is a valuable aspect of group planning. StormBoard makes this possible through a flexible platform that provides a virtual whiteboard and sticky notes. Through these modes, users can easily provide contributions by sharing notes and files.
Aside from inputting ideas, users can also add tasks and assign them to particular contributors. Proper management is also available through StormBoard, which lets them categorize related ideas and make a copy when needed.
What makes this platform unique is it can be integrated with third-party services to make it more versatile and more multi-purpose. This can be used personally for free or as a Business Plan for $10.
Miro
Miro is another effective and efficient option that lets team members collaborate through a free-form whiteboard that is accessible at any given time. It is also available on different platforms such as PC and mobile devices, making it effective for real-time and synchronous virtual meetings. It can also be used for face-to-face collaborations.
Miro is compatible with other online tools including Slack and Google Suite, with smooth integration. Users can use widgets, screen-sharing, and templates to create plans. Moreover, they can embed videos, chat with members, and leave comments.
Miro can be used for free with limitations or through a paid plan for $8 to $16 per member per month.
AYOA
AYOA is a project management software used by recognizable names such as Harvard University, Disney, and Coca-Cola. Formerly called Droptask, AYOA is known for its short learning curve and versatile features. Users can use Mind Maps, Whiteboards, and Task Management functions for all kinds of applications.
AYOA provides three different views namely the Kanban board, Canvas view, and Gantt chart that could work for different management styles and users. The main goal of this software is to provide an efficient and effective tool for neurodiverse teams.
The software includes features for taking notes, assigning tasks, setting reminders, setting priorities, tracking progress. It is available for free or through a $5-per month subscription.
MindGenius
MindGenius is great for individuals who work better with visuals. It is created as a platform for project management, collaboration and meetings, taking down notes, and planning. Startup companies can take advantage of its versatile and uncomplicated nature of this service.
It provides different planning and collaboration modes through mind-mapping and progress tracking. Its primary goal is to collect all ideas and evaluate them to find the most original and useful contributions. It comes with an explorer that enables users to zoom in on particular aspects of the map.
Startups can use this platform through a pricing plan that costs $160 for the first year and $56 onwards or a one-time cost of $256.
Conclusion
Entrepreneurs planning to start a business alone or with co-founders will find these brainstorming tools helpful. With the effective use of such software and platforms, they can generate more original and useful ideas, and conduct more productive planning sessions.
 References